Let's get one thing straight. The notion of a singular "front page of Apple Podcasts?" Total bollocks!
I mean, they don't exactly want you to know this, because that would be totally off brand for this shrouded in secrecy platform, but….
Apple Podcasts is just like Netflix, with 175 unique homepages, each tailor-made for different countries and regions.
Let's help you get access to more of these homepages shall we?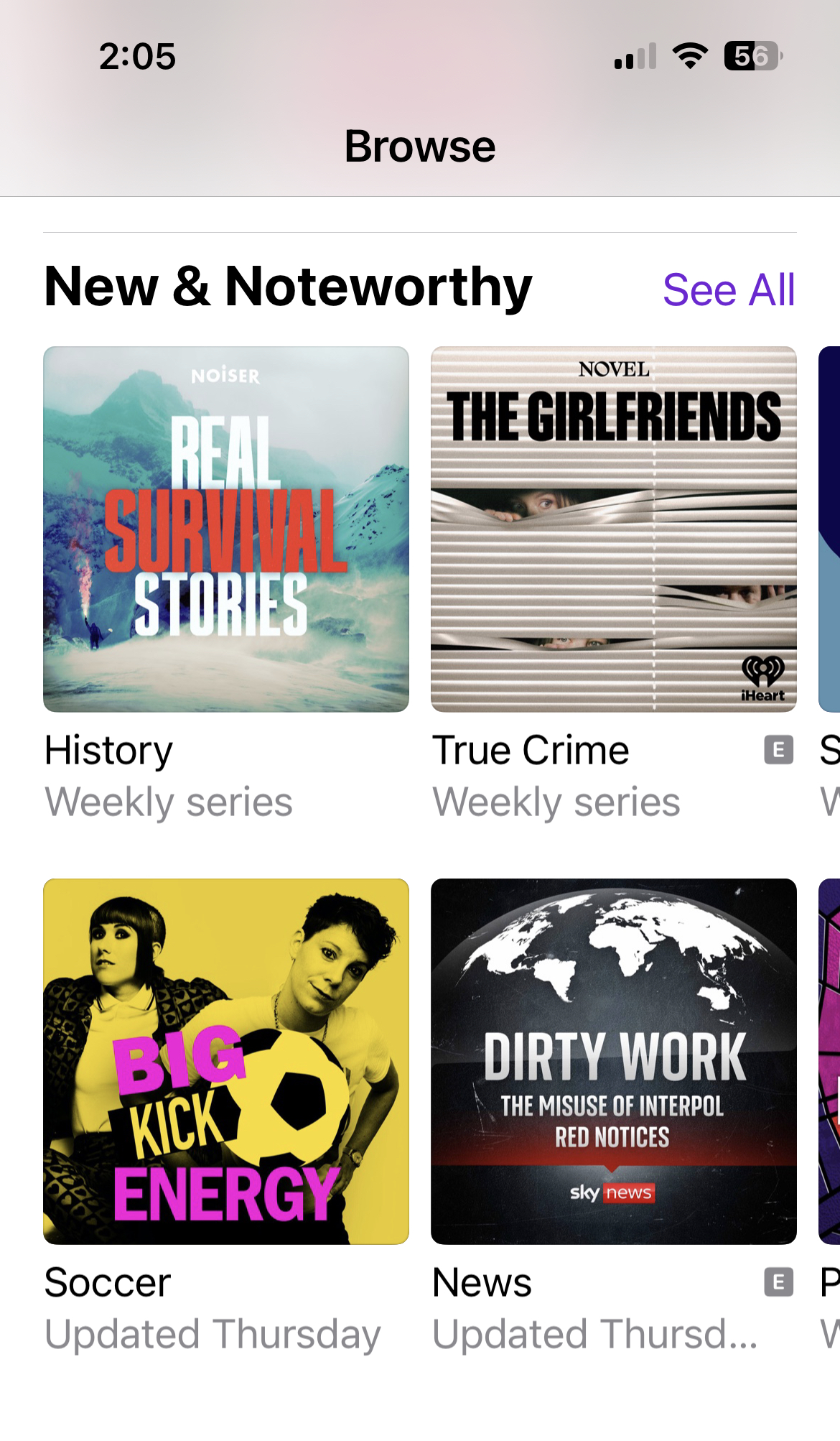 What does the apple podcasts 'hack' reveal?
When we're talking about different homepages, we're not just talking about a little tweak here and there.
Every country's got its own special mix of carousels and 'hero placements' like "New & Noteworthy" sections, and other editorial selections.
Now, here's where this article is going to get really tasty.
Those good 'helpful' folks at Apple Podcasts made it near impossible to switch countries.
A VPN? Forget it, mate! VPNs can be useful for some aspects of podcasting, but it won't get you anywhere in this locked-down app.
But here at Podknows Podcasting, we thrive on making impossibilities possible.
Also, we're based in UK and have clients all around the world in the United States, Australia and all across Europe.
So, we kinda needed a way to check out our podcasts rankings and searchability in other countries.
No more platform geolock? Ok, so what?
We cracked this a couple of years ago and it's been one of the ways we were able to nail down the search ranking for our clients.
And I've decided to share this code with you that will allow you to take yourself (and your clients if you're a podcast agency owner spying on this blog for insights) on a worldwide tour of Apple Podcasts.
No digital passport required!
With this code trick you'll be able to savour the unique podcasty flavours of Brazil or the sounds of Australia—all from the comfort of your favourite listening chair.
I've assembled the links for all 175 storefronts. You'll be able to access them on your iPhone, iMac, Macbook Pro, you name it, any device using iOS, they'll work.
You'll initially get a "Can't connect right now" message, but this will quickly disappear, and you'll be in.
A real use case for the Apple Podcasts hack
Here's a real use case I've carried out this morning (which inspired this post)
My podcast SEO team were telling me that during our routine checks for the search rankings of our podcast the Weeniecast from the awesome Katie McManus, they found it was ranking for "Jen Sincero" in the US.
This will have been because we've mentioned lovely Jen in a couple of episodes recently, thanks to Katie's love of the "You Are A Badass" range of books.
Ordinarily, I'd have never known that or been able to check. But thanks to this code, I was able to have a look for the search term "jen sincero" and sure enough, there's the show, ranking in the top 50 results for the term. And yet it's nowhere to be seen in my own feed here in the UK.
Had enough of nosing at other countries?
Fancy a return to your homeland's podcast scene?
Easy peasey, mate.
Just click your country's link right on this same page.
Bookmark this page, audio adventurers.
It's your gateway to a world of sound, with us lot at Podknows Podcasting as your guide.
Here's the tool for you!